We are all feeling the economic impacts from COVID-19. Tanktemp has over 3,000 active clients, and if you are reading this you are one of the 18,000+ that signed up for our newsletter. If you know someone who should be reading our stuff forward this on.
Everyday we work with folks just like you and solve problems you all face. We listen to what is happening with your businesses, and a lot of you are friends we hang out with outside of work. These newsletters are responses to the most asked questions we get every month.
We hear you, and we understand you.
It's time to make America drink craft again!
The world is slowly starting to open back up, but the future is not as clear as it was 60 or 90 days ago. You all have found new ways to do business, new challenges to tackle, and new realities. Your customers have changed their habits, so your 2020 plans need adjustment. But people still want your products, so let's keep you producing what they need. You need solutions to navigate 2020.
We are members of several industry groups and we're seeing some great advice being shared. The Brewers Association nailed it with their CHECKLIST FOR REOPENING GUIDE. This is good for breweries, wineries, distilleries, etc. They covered things we didn't even think of so we are sharing that. Nice work guys!
Let's get social
Your customer base has moved, so stay with them! As things open we are seeing limits on occupation, and a slow return to normal patterns. Your customers can't come to you like they once did, but the world is creating new opportunities.
Consumers are adapting quickly; online sales, delivery, virtual tasting, online bottle shops, actual bottle shops, taprooms-to-go, wine/beer clubs, drive-thrus, plus a tons of other great tools are helping get you to your customers.
People didn't go to breweries or wineries just to drink, they went for the experience. Work on ways to create that. During this time of social distancing, more and more people are relying on social media to stay connected and current. Digitally let them into your world. You are more than beer or wine to them.
Check out our Instagram. We are supporting a group everyday. Like and share the post, and start your own daily support campaign. Little actions have big impacts.
As we've encouraged more of you to invest in social, we've hear some groups are concerned when their posts don't get a ton of likes. Bear in mind the post may not have gotten clicked, but the post was seen. Remember, people don't click everything on social media, but they still might like it. Need proof? Here it is, I got more texts, emails, and calls about our new campaign than I did likes on the page.
We made a ton of these and a lot of you see them. There are a million articles about "how to make social media work" the first step is to be social. Post, like, comment and respond. This is what is working for us.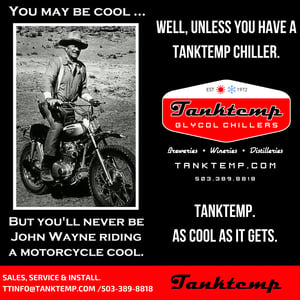 Virtual Beer Fests. Virtual tasting, Virtual taprooms
These are popping up, and we attended a few virtual happy hours. This weekend we will be attending our first BEERFEST. As a bonus, we won't even need an UBER home. We just ordered a bunch of beers from local breweries and we are ready.
Click image for more information
We use Zoom a lot for work, so why not social? Set up a link to order online and a link to the video chat meeting site. People can each buy a bottle or two, and catch up with their friends and family. Customers are adjusting to the current world and this might be something that continues beyond as well as introduces you to new customers. VR is here.
How a Small Act in Your Community Can Make a Big Impact
We know we are not able to make huge impacts, but we know we can maintain our small impacts. Need a deal on a chiller? We can save you a ton. Need a deal on service? Call us.
https://tanktemp.com/collections/all
We support a new brewery, winery, or distillery daily. My waistline is expanding, but it is what we can do. Drinking a beer a day is actually harder than I remember from my college days. But we are doing it and have fun supporting everyone while we are. Follow us to see who we feature next.
We miss the days of stopping some place and having a beer or two after a day of work. However, with more people working from home we're seeing a resurgence of the 1950's "martini lunches" and the 5:00 PM happy hour. See how your state is doing in this article, Drinking Alcohol When Working from Home.
Shopping Local
Most of you have moved a lot of effort into online ordering, delivery, and bottle shops. These websites may help you sell to an even wider audience.
Our favorite option though is calling local bottle shops. There are 2 close to us that we can call up for delivery. Every week we're saying, "We need $150 worth of local craft beers delivered or we will pick up, oh and what's for lunch?" We can't get to places like we used to so we are finding new paths.
These are the actual orders I have shipped to the home office from bottle shops.
Your equipment in 2020. Maybe you don't need to replace it just yet
2020 threw a wrench in a lot of plans, but we are still building units. Some groups are focusing on growth right now, some projects are stalled, and other projects have completely changed direction. We are good with all that. Our commitment is to help you make it through.
First let's service all the chillers out there! The last thing you need is a $100 fix to turn into a $2500 repair. Nobody wants that. Book your service.
This is for local Portland area groups. We will be making a trip to Eastern Washington soon. Book it out, when we get a few things scheduled we will head that way.
https://tanktemp.com/pages/services
Some of our techs are in Northern California this week wrapping up a 50HP unit install. We are also heading to Colorado and New Mexico with the trucks for other installs soon. No matter where you are we can work something in or help you find a group in your area. Not sure they will give you this price on a commercial unit but we can ask.
A lot of you don't know us super well, but most of you do.
For those that don't, we are basically the custom hotrod shop of chillers. We don't just build and install new units though, we are a service group too. We started making our own chillers after seeing all the junk groups were making in the early 70's. We got our start taking milk tanks and turning them into wine chillers. We pioneered with the industry in Oregon.
We started In 1972 as Curt's refrigeration, and we started designing our own units in 1976. The rest is 47 years of history.
We can rebuild, modify and redesign existing units
We are a custom builder, with over 60% of our units having modifications to our standard designs. We are a UL listed panel shop, which means we can design and wire units and UL list control panels. From UL:
"Program offers unique flexibility for panel manufacturers, enabling you to label either mass-produced or custom-built ICPs without needing our examination of each design."
We are a custom fabrication shop. We cut it, weld it, and bend it all up here. Need it different? We do that; and we do MIG, TIG, and Stainless/Aluminium fabrication
We do all our brazing in-house too, with nitrogen purging and the whole bit. We have engineering in-house. We can run calculations, mock-up CAD designs, design specs, all in-house.
There is nothing we can't do when it comes to building chillers, installs, and service. A lot of the older wineries around here call us to fix things others have condemned, and build things others can't or won't. Some old units just need updates, we can do that, some need rebuilds, we can do that. Some we can patch to get you through a few more years.
We can make an old chiller like new again, or even better.
Every chiller out there can be modified to increase the capacity… Yep, bolt on modular units. We do it all the time.
Need something for 2020? We can build it.
Service? We do that too.
Get a great deal on some new equipment? We can plumb it in.
Need to move and overhaul a chiller? We'll take care of it.
Need more from what you have? We have a ton of solutions here.
The last few weeks I was amazed at how many groups though we just built new units. We do that, but not all we do. Everyday we fix, repair and upfit breweries and wineries all over the country.
Keeping old units going...
Old 15HP from 1999 ( 20 years old ) getting reworked. This got new panels, pumps replaced, cleaned and full service and upgraded to new gases.
The original Tanktemp 5HP from 1984, we have come a long way… 35 years and still the only source of refrigeration for this winery. Finally got a new compressor.
Second generation 5HP unit from 1992 that has been working hard for 27 years. We have so many units like this that keep going, and going. The average chiller lasts 7-12 years, unless it is something we built and the average is 25+. We have close to 1,000 of these 5HP units out there.
Another 5HP from the early 90's, gets worked hard every year.
"We need more power and have no space." Yeah, we can make that work too. Older 5HP with a newer 5HP bolt and tied right on top. Not our prettiest work but we had less than 2 weeks to make this happen from panic call to restart. This for an Xray machine on a foundary. Even groups that aren't our core client base love our chillers.
We always made things last. Thankfully, now we make them last even longer and look better.