The way forward...
All our 2020 planning is on hold, so let's move our growth plan out and make, "We are all in this together '' more than a phrase. We have always been in IT together.
We have seen customers close their doors, some forever, and watched everyone suffer the impact of the current events. We have also seen an outpouring of support for the industry. Many of you are reflecting back to why you started in this industry to guide how you move forward.
We all came to the brewery and winery industry because this is what we wanted to do. We knew we weren't going to write the great American novel, but we also knew there was more to life than buying something for a dollar and selling it for two. We hoped to create something which could be held to the highest standards, and we succeeded. The more we all know about each other, the greater the chance we will survive.
We're here for you
Tanktemp is supporting a brewery or winery everyday on social media by purchasing and featuring one of your amazing products. It has been fun to see the support grow from all our followers. We believe the more groups can promote each other, the bigger the impact we will have. Our industry is known for supporting each other, and now more than ever supporting each other is crucial.
Follow us on social media to see who we're featuring next. Who knows, it could be you.
Send us an email of who we should order from and send too.
Quarantine Won't Last Forever, our community will.
How do we operate in this new environment?
This has been the hot topic of my calls with you.
Demand
2020 is not going to look like 2019. Even in all this, people are looking for new ways to exist and live their lives. Breweries and wineries offer a way for people to be social while still social distancing.
The data is showing that people are drinking more beer and wine now than they did, and you are in demand. Despite this, the data is showing that some industry players won't recover or have already closed. Check out this article from WineBusiness.com: Winery Hiring Pauses but Sales Rise
Your customer base moved, stay with them!
Your customers can't come to you like they once did, but the world is creating new opportunities. Consumers are adapting quickly; online sales, delivery, virtual tasting, online bottle shops, actual bottle shops, taprooms-to-go, wine/beer clubs, drive-thrus, plus a tons of other great tools are helping get you to your customers.
People didn't go to breweries or wineries just to drink, they went for the experience. Work on ways to create that.
Virtual meetups are fun.
Last week I sent 10 of my buddies beers, set up a Zoom meeting and got caught up. Did the same with the family through a Family Happy Hour. Everyone is looking for ways to stay in touch. Build this package for your customers.
We use Zoom a lot for work, why not social? Promote these tools, set up a link to order online, a link to the video chat meeting site and people can each buy a bottle or 2, and catch up with their friends and family. Customers are adjusting to the current world.
Some helpful options for distribution.
A lot of these tools will remain great avenues for your future.
Production.
Watch your supply chains and new regulations. These are the new hurdles of the day and the struggles we will face next. The biggest thing we see is working out how to change procedures so that workers can stay farther apart.
As an example we expect refrigeration compressors to be in limited supply this year too. Check out this article from Brewers Association on The Potential Shortfall of Available C02
Proximity
A considerable challenge for an industry that typically relies on teams harvesting crops together in close quarters is social distancing. Below are some of the topics we're watching and discussing.
Workers: will we have them? New guidelines for everything here.

Field workers

Crush help

Shipping/Transport

Returning servers

Harvesting methods and concerns: machine vs hand picked

Social distancing in the fields, crush pads, and brewhouses.

Crop storage and processing concerns.

Packaging: obviously less draft and more to-go packs.

Distribution: talk to your distributors. Look for shelf space and outlets.

Supply chain disruptions and low inventories: some up your suppliers might not make it through these. Check in with your key support system.

Pent up demand release: once things start to open up, the supply chain will need to catch up. Where are your kegs?
Great reads about what vineyards and hop growers will be facing soon:
COVID-19 Considerations Bring Confusion, Uncertainty To Northwest Family Farms
How Do You Harvest Grapes and Make Wine in a Pandemic?
Vineyards and breweries workers need to abide by new federal guidelines and keep safe distances from each other to limit the spread of coronavirus. We will learn a lot from the berry farmers as to what to expect.
The food chain is starting to see more guidelines that could affect you getting supplies. This PDF link is a must read: Download
Let's start working on the problem.
We can keep you running, call us. We have protocols in place to keep you and us safe. Keep up on your maintenance.
Let's keep the equipment that you have going strong. If you are not upgrading we have a lot of options to update and maintain units.
If you have any questions here, call us. (503) 389-8818
We are focusing on the unit we know will speed up your processes and allow for the best option for the changes we see coming for you.
We have been working with our supplier to make sure we can get parts and SPECIAL PRICING that we are passing on to you.
We have been working with our financing groups to make sure you can get what you need when you need it.
Service. Oregon and Washington. We got you!
Let's do the pre-season maintenance now and keep your equipment working right. We cut our pricing on the tune-up service by 50%. This is not profitable for us… This is about keeping everyone running.
Best unit for wineries in 2020, the DUO-DX.
The DUO-DX will most likely be the unit to save your winery. This unit can cold soak fruit fast with a simple pump over. This allows you to store fruit in totes and unjacketed containers. This unit will also take the load off your main systems if they are overloaded.
The DX is nothing new, for 35 years we have been perfecting it. There are close to 500 groups using the units to increase their production and processes: Ponzi, Soter, Ken Wright, ADEA, Laurel Ridge, Colene Clemens, DION, Sokol Blosser, Raptor Ridge, Beaux Freres, A to Z Wineworks, Jackson Family, and Wine by Joe to name a few.
The DX will change how you process fruit and make wine.
https://tanktemp.com/products/tanktemp-duo™-dx-direct-exchange-heater-chiller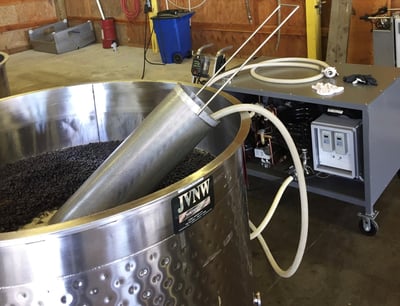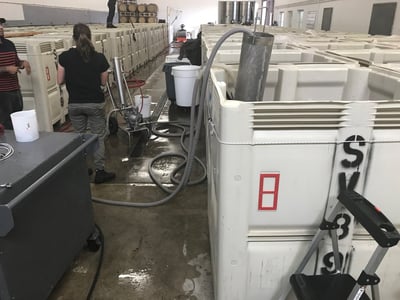 Install…
We shut down out of state install for the last month, but are getting ready to jump back in. We will always put the safety of your team and our team first. Do you have an install project or equipment that needs to be moved? Let's be safe and schedule this out.
We have projects in Colorado and California scheduled now. Travel is obviously harder and takes more planning to keep everyone safe.
We aren't at full stream… But we are moving ahead…
Read more https://insights.tanktemp.com/blog