Work to do something better everyday
We build machines, but we work with humans. We want to talk with you, not at you, to get each of you the best products and services possible. We want to know you a little better so we can help you when you need us. In the last 48 years we have learned that everybody does things a little different. Our job is simple, make heating and cooling solutions work for the way you do things.
Please click the button below to update your info so we can do an even better job for you. Plus, we're giving away free SWAG.
Call and we will update this for you. 503-389-8818
Expanded service, upfits and install areas! #doingmore
Are you in Oregon, Washington, or California and want to be notified when we are in your area? We are working on building out a service route. If you want a factory tech to come look at your unit let us know.
There is nothing we can't do when it comes to building chillers, installs, and service.
We can overhaul most chillers, and make them even better.
Every chiller out there can be modified to increase the capacity.
Need something new? We do a lot of that.
Service, no matter whose equipment you have.
Need glycol plumbing? We do that.
Need to move? We'll take care of it.
Need more from what you have? We have a ton of solutions.
I was amazed at how many groups though we just built new units. We do that, but it's not all we do. Everyday we fix, repair and upfit breweries and wineries all over the country.
Everyone is changing how they do business, and that includes Tanktemp. We've developed work bays that keep our fabricators six feet apart, we've implemented new low (or no) contact service procedures, and most importantly we're adapting the ways we communicated with all of you. As always, all units are sanitized before they leave the shop.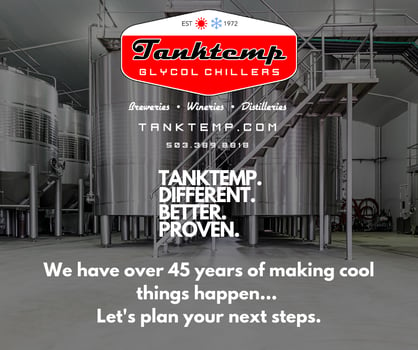 Installs and tech support WE ARE NATIONWIDE. We are hands-on and can virtually assist too! #doingmore
We have in-house engineering, techs, and tech support to assist contractors and designers.
We have been in Texas, New Mexico, Washington, Pennsylvania, Colorado, California, Nevada, Florida and of course Oregon so far this year. Oh and Canada too. Pretty busy for a year that brought us COVID-19.
For 48 years we have been doing local installs, and due to demand we are now traveling nationwide assisting contractors with installations.
Want us to help with your planning, design, or installation? Get us involved early in your designs.
Tanktips
DIYers, keep you chiller running. #doingmore
Download our checklist to service your chiller: Link to checklist
Things you should do weekly or monthly ( your choice ).
Look over your unit for signs of anything that might be failing

Anything leaking, oil, glycol, sightglass and y-trap
Any signs of electrical issues, loose wires, burnt/melted wires, swollen components

Clean debris from your coil. (deep clean the coil 1-2 times a year)
Clear the airflow. You need 24" behind the unit and that or more in front.
Check the Brix of your glycol (22-26 Brix) and the level. Check the flow.
Keep an eye on the weather and the settings on the unit. Your unit will normally trip on overload if ambient temperature reaches 120F or more. If this is a problem, call us and we have tips.
If it's going to be hot next month and your system is under powered, bring the barrel room down and tanks down BEFORE the high temps hit. It is easier to maintain a temp than it is to crash a temp.
CALL US FOR SERVICE BEFORE THE UNIT GOES DOWN.
Tanktip. It is a good idea to know what normal looks like so you can spot things that aren't.
Market analytics for craft beer in COVID.
Which factors are drawing you to buy beer-to-go from a particular craft brewery?
78% Loyalty to my local craft brewery
72% They are active on social media with information about beer-to-go
64% The brewery's proximity to my house
50% They are practicing safe and sanitary social distancing
31% Their to-go hours are most convenient for me to stop-by
18% They also offer food
6% They also offer groceries
Read the rest here… great report. These guys are great, most of this pertains to wineries as well.
https://hopalytics.com/commentary/hopalytics-report-on-effects-of-covid-on-craft-drinkers/